In Memory
Jeffrey S. Rhoades
Jeffrey S. Rhoades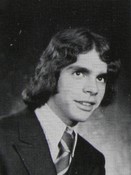 Jeffrey S. Rhoades, 46, passed away Thursday, June 5, 2003.
He has finally found peace after courageously battling many compli cations due to a motor vehicle accident in May 1997.
He leaves behind his beloved daughter, Emmily; wife, Carol; parents, Harold and Joy; brother, Tom (Susan); and many other family members and friends, both here and in Oregon.
Special thanks to Dr. Kopyev, Copley Health Care Center, Akron General Medical Center, and Hos pice Care Center for their kindness and wonderful care.
His faith made passing peaceful.
There will be no visitation or services. (Cremation Society of Ohio, 800-664-1012.)
Please sign the guestbook at www.ohio.com/obituaries
Published in Akron Beacon Journal on June 7, 2003
Deceased Classmate: Jeffrey Rhoades (1974)
Date Deceased: June-5-2003
Age at Death:
Cause of Death:
Classmate City:
Classmate State:
Classmate Country:
Survived By:

Published in Akron Beacon Journal 6/7/03