In Memory
Renee Varner
In the still quiet hours on November 1, 2011 at Akron Summa City Hospital, Rene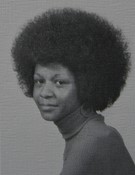 e Maria Varner entered into her heavenly home.

Renee was born in Akron, Ohio on December 21, 1955 to Robert and Evelyn Varner. She was a 1974 graduate of North High School and had been employed at General Tire and Rubber Company in Akron, Ohio until she relocated to Atlanta, Georgia where she was employed as an Abstractor at both Emory and Grady Hospitals until the onset of her untimely illness caused her to retire the early part of 2010. Renee loved her family and liked to share fun loving stories about them. Renee loved to cook and enjoyed eating and sharing the fruits of her labor. Renee also loved her plants and flowers. Renee was a kind loving person who was always willing to lend a helping hand, be it a warm place to stay or a home cooked meal.

Renee was preceded in death by her father, Robert L. Varner, Jr.; grandparents, Sherman and Elizabeth Green; and her beloved dog, Nico. She leaves to cherish her memory, her mother, Evelyn Varner; brothers, Michael and Victor (Shelia) Varner; nieces, Wendy Bereka and Kendra Baker; nephews, Victor II, Anthony, Raeshawn, Gabriel, Christian, Michael Jr., and Robert (Tiffany) Varner; special friends, Jeanie Jones, Anita Anderson Wilkson, Pam Varner; and a host of extended family and friends.

Funeral service will be held Monday, November 7, 2011 at 11 a.m. at Rhoden Memorial Home, 1101 Palmetto Avenue, with Pastor Francel Parker officiating. Friends may call at the chapel on Monday from 10 a.m. until time of service. Interment at Mount Peace Cemetery. Procession will form and condolences may be sent to 113 Lods St., 44304.