In Memory
Terrence Moneypenny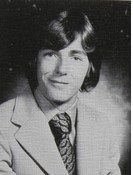 Terrence (Terry) L. Moneypenny, 57, of Akron, Ohio went home to meet his Lord and Savior February 24, 2012.
Terry was diagnosed with Pancreatic cancer May 6, 2011. Terry and his beloved wife fought this fight and never gave up. We stayed strong, and prayed hard for a complete healing. Terry wanted to come home to be with his wife and three Yorkies, Pebbles, Bam Bam, and Tinkerbell. With the guidance of Dr. Koenig and Hospice he was able to come home. When healing on earth was not possible I told him he would get his ultimate healing in heaven. He was surrounded by prayers with his wife Kim, sons Jason, and Nicholas, and many family members.
He lost his son Zachary at age five, who he has missed every day, and I am sure Zachary was waiting for him with open arms. He also lost his brother Joe in 2009. He leaves behind his loving wife, Kim (McCrossin) Moneypenny; sons, Jason (Amanda) Moneypenny, Nicholas (Cierra) Moneypenny; grandchildren, Jason Kinsley Moneypenny, Jr., Brady Richard Moneypenny, Khloe Elizabeth Moneypenny, and Landon Lee Moneypenny to be born April 2012; parents, Thomas and Gloria Moneypenny; brother, Garry (Sandy) Moneypenny; sisters, Tomala Moneypenny, Lisa (Scott) Terry-Rittenour, and Amy Moneypenny. He leaves behind many cousins, aunts and uncles. He also leaves behind a wonderful mother-in-law whom he truly loved, Mary McCrossin; brothers-in-law, Bob, James, Greg, and Terry McCrossin; sisters-in-law, Jeannie, Pam (Eddie) Stratford, and Sherry (Monte). He leaves behind many nieces and nephews, and great-nieces/nephews. He leaves behind his niece whom he called his daughter, Christina McCrossin. She looked up to him as the most amazing man she ever met, and called him her Dad.
Terry was a graduate of North High School in 1974. He was a member of Teamsters Local 348 from 1979-2004 while working at House of LaRose, and Teamster Local 407 with Yellow Freight. He also belonged to the Akron Deaf Club.
His heart was brought back to life when he met his wife Kim in 1997, and married her in Hawaii April 12, 2003. Together they made their house a home. Throughout his life, he has been blessed with the kindest heart ever, gifted carpentry hands, the ability to dream and build anything without a written plan, working on cars and trucks, and a wonderful sense of humor, with love for all people that were fortunate enough to have met him. What Terry lacked in hearing, God blessed him two-fold in all other areas. He knew no strangers in his life and if you met him he left an impact on your life. His capacity to love was immeasurable, as was the love everyone had for him. His hobbies included landscaping, bicycling, dancing, antiques and mopars.
Every once in a while someone comes along who can truly be called a Hero, my husband was one of them.
Special thanks to Drs. Joseph McShannic, Al Ciraldo, Joseph Koenig, Summa's Oncology Floor, especially Troy, and Hospice.
The family will receive friends on Saturday, March 3, from 9 to 11 a.m. at the McGowan-Reid & Santos Funeral Home (at 3rd. St., one block north of Portage Trail in the Falls), followed at 12 p.m. by a Mass of Christian Burial at St. Eugene Catholic Church, 1821 Munroe Falls Ave. in Cuyahoga Falls. In lieu of flowers, donations can be made to Fifth Third Bank "Benefit of Terry Moneypenny". (McGowan-Reid & Santos, 330.928.1313,
anthonyfh.com
Published in Akron Beacon Journal from February 26 to March 1, 2012