In Memory
Judy Bernard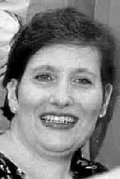 Judy Rebecca Bernard, of Akron, Ohio, died peacefully at home, Sunday April 10 after a prolonged illness.

Judy, born in Akron, Ohio February 11, 1956, was the beloved daughter of William L. Bernard, Jr. and Lula Mae Bernard of Cuyahoga Falls; sister of William L. Bernard, III and wife Debra of Virginia Beach, Robert C. Bernard and wife Sheila of Carrollton, Ohio and Timothy N. Bernard and wife Nancy of Woodland, Calif.; and longtime partner to David Coon of Akron, Ohio. Judy was preceded in death by her mother, Lula Mae.

Judy was born with spina bifida and spent most of her life confined to a wheelchair. She was treated throughout her early life at the Shriners Hospital in Louisville, Ky. and was an early poster child for their efforts to help children. Judy attended Akron schools at a time when handicapped children were placed in special schools, segregated from other children. She persevered and graduated from Akron North High School in 1974. She enrolled at Akron University and subsequently attended classes at Kent State.

Judy worked for the Akron Metro Regional Transit Authority as a scheduling clerk for SCAT from 1991 until 2007. She was honored as the disabled employee of the year in 1992. Judy was selected Miss Wheelchair Ohio in 2003. She was an advocate for disabled people all of her life. She testified before the Ohio Supreme Court on issues affecting persons with disabilities.

Judy never ran, jumped or walked. She never played sports, yet she lived with a joy of life that few will ever know. She never complained. She never wondered what if? We all loved her and will miss her forever.

Funeral service will be at 1 p.m. Saturday at Hennessy Funeral Home (corner of York and Main), 552 N. Main St., Akron. Burial will follow at Chestnut Hill Memorial Park. Friends will be received one hour prior to the service at the funeral home.
Bernard