In Memory
Carlos Grose
Carlos R. Grose, 41, passed away June 26, 1997.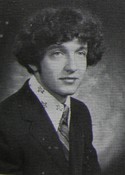 He was born in Akron and was a resident of Tallmadge since 1986. He was affiliated with Tallmadge Alliance Church and served with the Marines. He worked as a tool grinder for Lockheed Martin for 18 years.
Preceded in death by father, Carlos A., he is survived by wife, Ythamar; son, Colby Davis of Tallmadge; mother, Mary K. Grose of Akron; aunt, Clara Goad ; and cousins.
Graveside services will be at 12 noon Saturday at Tallmadge Cemetery, with Colby Davis officiating. Donations may be made to the Tallmadge Alliance Church.