In Memory
Ed Czeck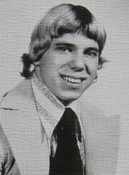 Edward P. Czeck, Jr., 29, passed away November 24, 1985.
Born in Ravenna, he had lived in Akron most of his life, served in the US Navy, and had worked for Gibson and Grable Construction. He was the owner of Czeck's Superbodies, was a winner of the Mr. Akron title. and was a runner-up for the Mr. Northeast Ohio title.
He is survived by his wife, Kathy L.; children, Shannon, Shawn, and Kimberly; brother, Mark A. Of Houston, TX; sisters, Debra Lee of Akron, Mary Ann Stevens of Cuyahoga Falls, Elizabeth Ann Suncire of Arizona; and mother, Loretta M. Czeck of Cuyahoga Falls.
Calling hours Thursday 2 to 4 and 7 to 9 PM at the Eckard-Baldwin Funeral Home. Funeral services Friday 12 PM at the funeral home. In lieu of other remembrances, donations may be made to the family.