In Memory
Jeff Dollinger VIEW PROFILE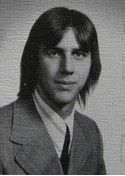 It is with great sadness the family of Jeffrey Dollinger share our grief with his passing on June 14, 2012. Jeff passed away suddenly while riding his beloved Harley-Davidson.

Jeff was raised on North Hill in Akron and lived the last 27 years in Uniontown. He was a former member of the North Hill Social Club, Eagles of North Canton, 30 year member of Sheet Metal Local 33 and Zion Lutheran Church.

Jeff was preceded in death by parents, Eugene and Pearl Dollinger. He leaves behind, his pride and joy, his children, Kory and Cody Dollinger; sisters, Judy Dollinger and Janis (Mike) Bittler; nephews, James and Rick Bittler; aunts, Patty (Pee Wee) Yankulov and Wanda Mack; cousins, Jim (Ann), Chuck (Vicki) Ferguson and Phil Yankulov who were truly like brothers to Jeff; loving wife and friend of 40 years, Denise Dollinger and Jeff's constant companions, Boomer and Teka.

Jeff will be deeply missed by all that knew him. He was the type of person who would do anything for you and could fix anything broken. He took pride in the work he did, especially when it came to his yard. Jeff always had people stop and ask who his gardener was. His favorite thing to do was shop at Gabriel Bros., BJ's Wholesale and Lowe's, but the most important thing for him was spending time with his family having cookouts or just hanging out at home.

Memorial service will be held at 1 p.m. on Thursday, June 21, 2012 at Zion Lutheran Church, 139 S. High St., Akron, OH 44308, with Pastor Joshua Schoon officiating. Family and friends may call on Thursday from 11 a.m. until time of the service at the church. The family requests that memorial contributions be made in Jeff's name to Habitat for Humanity of Greater Stark and Carroll Counties, 2800 Leemont Ave. NW, Canton, Ohio 44709. To leave a special message online for the family, visit our website at www.schermesserfh.com.

Click here to see Jeff's last Profile entry.